Richard L. Elem, Esq.
Attorney at Law

Tel: 201.862.9500 ext 210
|
E-mail:
relem@janmeyerlaw.com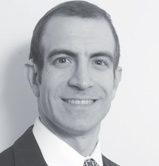 Mr. Elem joined The Law Offices of Jan Meyer & Associates, P.C. in April, 2007. His diverse practice in civil litigation includes subrogation, title insurance law, real estate litigation, estate litigation and product liability. Mr. Elem is a skilled oral advocate and regularly appears in the New Jersey Superior Court, New York City Civil and State Supreme Court.
Moreover, Mr. Elem's superior writing skills have contributed to various successful memoranda of law. Before his admissions to the New York and New Jersey Bars, Mr. Elem held several positions including at a New York City personal injury firm, the Queens District Attorney's Office, Appeals Bureau, and the Chambers of the Hon. Patricia P. Satterfield, J.S.C. (now retired).
Mr. Elem graduated magna cum laude from Rutgers College and received his Juris Doctor from St. John's University School of Law. Mr. Elem is fluent in English, Hebrew and American Sign Language (ASL).
Mr. Elem is a member of the bar in New York and New Jersey, and admitted to practice before the District Court of New Jersey.