Elissa Breanne Wolf, Esq.
Attorney at Law

Tel: 201.862.9500 ext 206
|
Email:
ewolf@janmeyerlaw.com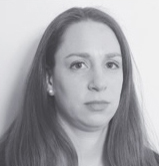 Elissa Breanne Wolf is a Senior Associate at The Law Offices of Jan Meyer & Associates, P.C.. Her practice in civil litigation includes insurance subrogation and real estate in New York and New Jersey. As an integral part of the subrogation team, Ms. Wolf specializes in PIP/no fault issues and regularly advises large insurance companies regarding threshold issues of recovery and liability.
Ms. Wolf is a skilled negotiator and has a proved track record of successful resolution of cases involving complex liability and treatment issues. She regularly appears in the New Jersey Superior Court and Arbitration Forums.
Ms. Wolf's prior experience includes positions in a New York City general practice firm; the Chambers of the Hon. Donald W. Merkelbach, J.S.C. (now retired) and at a small accounting firm.
Ms. Wolf graduated summa cum laude from Queens College, and receive her Juris Doctor from Fordham University School of Law. Ms. Wolf is fluent in Hebrew and English. She is admitted to the bar in New York and New Jersey.